Anti-riot vehicles heading into Shanghai have been sighted while Covid protests erupt all over China. Here's what's going on.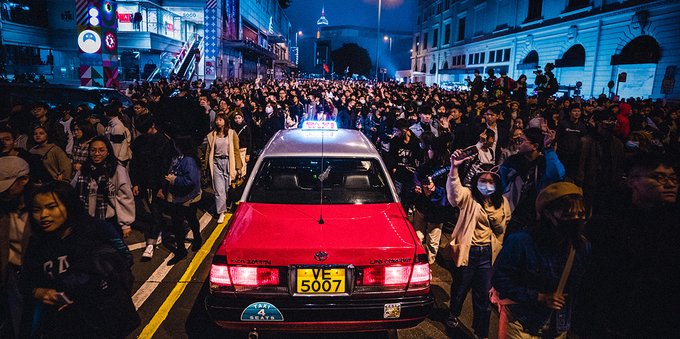 Protests against the establishment are spreading all over China amid tighter Covid restrictions. Indeed, three years into the pandemic, China does not seem to budge while the rest of the world seems to have moved on.
Frightening images of the Shanghai lockdown this April showed the determination of the Chinese Communist Party to keep the "zero-Covid" policy. Entire skyscrapers were left without food, medicines and, sometimes, water. Residents screaming desperately hoping that they would be freed. But there was nobody there to help them.
To be perfectly honest, the zero-Covid strategy helped reduce China's death toll to a few thousands. The West, on the other hand, saw millions of people dying and hospitals constantly overcrowded. Many within China have thought for a long time this was the right strategy, but they seem to be fewer and fewer now.
Videos of protests circulated on Telegram, with crowds chanting anti-establishment slogans. Even Xi Jinping, China's President, was targeted. Xi has recently obtained a historical third term as President and Chairman of the Party, making him the most powerful Chinese since Mao Zedong.
Until today, no protest had ever targeted Xi directly, being a strictly forbidden crime. In fact, some Western outlets are drawing comparisons between these protests and those that took place in Tiananmen Square in 1989. At the time, thousands of students asked for social change and democracy but were violently mowed down by tanks leaving hundreds dead.
How will the most powerful Chinese leader ever respond now?
No opposition
During the latest Congress of the Communist Party, Xi Jinping eliminated every form of opposition. His rule, now, is basically unopposed. The authoritarian evolution of China might be complete, and the zero-Covid policy seems to be an evident conclusion of that.
In recent weeks, after a surge of cases in Beijing and Shanghai, state authorities implemented strict restrictions again. Experts think that the zero-Covid policy will continue until March 2023 or even longer.
"Communist Party step down, Xi Jinping step down" is one of the slogans currently being used in Shanghai according to Telegram videos. People are refusing to obey restrictions, but they are hardly listened to.
Not only did the party not recognize the protests, Chinese state media urged people to respect restrictions. "We believe that with the leadership of the Communist Party of China, and cooperation and support of the Chinese people, our fight against COVID-19 will be successful." said spokesperson Zhao Lijian.
Meanwhile, Shanghai netizens reported on Telegram that anti-riot vehicles are approaching the city. It is clear that Xi will not allow protests like these to continue.
Obviously, protests like these will not overrun the Chinese establishment from day to night. Perhaps many of the protesters don't even want to toss the Communist Party away, being simply tired of freedom limitations.
The question is how long will Xi be able to ignore such protests? With global economy heading in a recession and Chinese figures dropping down because of the restrictions, Xi will lack the economic support he had so far.
Xi might have obliterated opposition inside the party, but should know as well as any other leader that the people always have the final say.