A year of Bitcoin mining is worth 116 TWh, just over a third of Italy's electricity needs. Much more electricity is consumed to produce air conditioning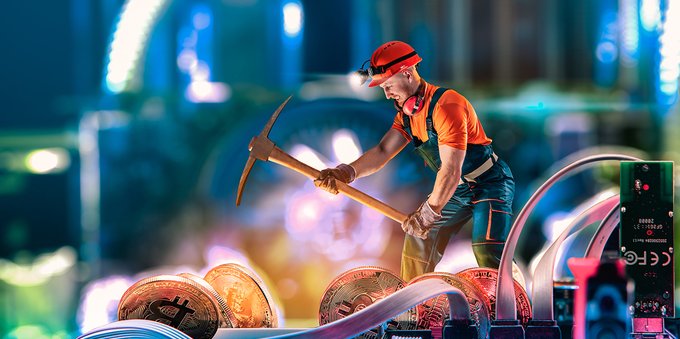 The topic of mining of Bitcoin, and of cryptocurrencies in general, has been attracting attention for some time. Many, in fact, have the perception of mining as an activity with high electricity consumption and therefore with a high economic impact (given the current energy costs) on a par with the environmental one.
Bitcoin mining, in fact, is a complex calculation activity, which involves an enormous expenditure of energy to be able to solve the complex algorithms and get the reward in return.
Along with the volatility of the price, which was particularly intense during 2022, with the value going from $32,623 a year ago to $21,631 today, the environmental impact is perhaps the main reason for the negativity Bitcoins along with all other cryptocurrencies.
In short, it is thought that producing Bitcoins is an activity that consumes a lot of energy, costs a lot and pollutes the same.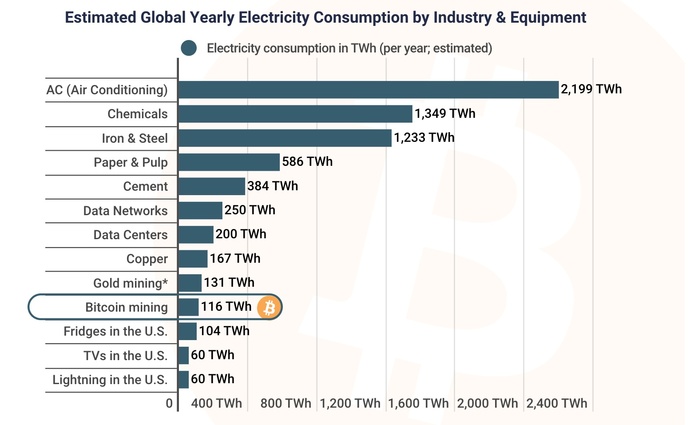 How much energy Bitcoin mining consumes
However, a study carried out by the crypto portal BitStacker, based on data provided by the Cambridge Center for Alternative Finance, found that the annual electricity consumption for Bitcoin mining is 116 TWh.
In addition to being logically lower than that required for industrial activities, it is significantly lower than that for global air conditioning production, which is 2,199 TWh.
For comparison, in 2022, based on data from Terna, the company that manages the national transmission grid, the consumption of electricity in Italy was 316.8 TWh.
Remaining in a more limited context, the study revealed that Bitcoin mining consumes a fraction of the energy used to operate, in the United States alone, two key appliances of daily life, such as refrigerators and televisions which, added together, consumed 164 TWh last year.
Again according to the estimates of the report, the production of chemical products affected electricity consumption by 1,349 TWh, followed by the production of iron and steel with 1,233 TWh, that of paper and cellulose, which used 586 TWh and the production of cement, which consumed 384 TWh of electricity.
Bitcoin mining costs less than mining new gold
The report also compared Bitcoin mining to precious metal mining. An interesting comparison, as it is often said that Bitcoin is the new gold, obviously in digital format.
Well, the 116 TWh of electricity consumed in a year by Bitcoins is less than the 131 TWh estimated for gold mining and also the 167 TWh used for copper production.
It should be noted, however, that estimates of energy consumption for gold mining on a global scale are difficult to verify: the study used official statistics which unfortunately date back to 2006 and which therefore may not be representative of the actual numbers relating to the current electricity consumption of the gold mining industry.
Original article published on Money.it Italy 2023-02-02 16:22:03. Original title: Quanta energia consuma il mining di Bitcoin