Chevron and other major U.S. oil companies are higher this week despite declines in the overall market.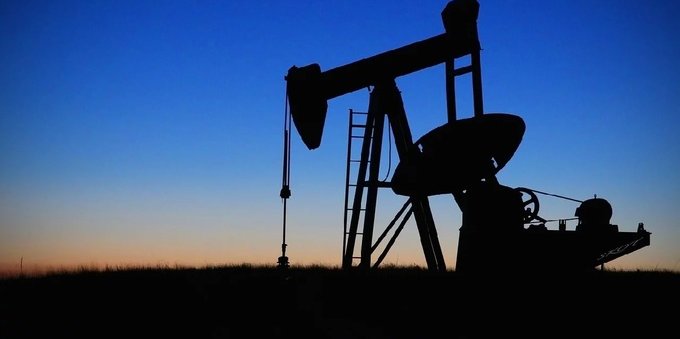 Chevron, despite a generalized decline on the market, is at a 4-month high, thanks to the interest in artificial intelligence sending indexes over the roof. Chevron shares trade at higher multiples than its peers.
The rally is obviously driven by last week's supply announcements from OPEC+ countries: Saudi Arabia and Russia. However, on a yearly basis, Chevron has underperformed the overall stock market, oil, and other oil super majors so far this year. Let's take a closer look at the company
OPEC+ extends cuts
An announcement extending Saudi Arabia's production cut was expected this week, but it still took markets by surprise. The country has decided to extend the 1 million barrel cut until the end of the year, and not just until October, as expected by the markets. Russia made a similar announcement minutes later, saying it would extend its export cut by 300,000 barrels until the end of 2023. This triggered a rally in oil prices as Brent (OIL) rose above 90 dollars a barrel for the first time since November 2022 and the WTI (OIL.WTI) exceeded 87 dollars a barrel.
Chevron and oil prices
What shouldn't be surprising is that Chevron's stocks are highly dependent on oil prices. Taking a look at the chart below, we can see how Chevron shares have performed relative to the price of oil and the S&P 500 index this year. However, if we consider the 5-year correlation coefficients, the story looks different. The correlation coefficient of daily returns of Chevron and Brent over the last 5 years has been approximately 0.50 while that of Chevron and S&P 500 has been approximately 0.62. However, this discrepancy between the 5-year correlation and the year-to-date correlation can be easily explained: AI interest. The S&P 500 has posted strong gains this year, especially early in the year, as it has been supported by a rally in AI-related technology stocks.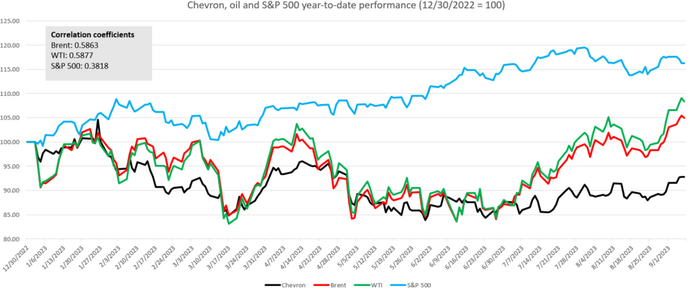 So far this year, Chevron's stock price movements have been more similar to those of the price of oil. However, it must be said that Chevron has underperformed oil since the end of the second quarter of 2023.
Chevron has underperformed its competitors this year
Even though the S&P 500 is up more than 16% year to date and Brent has gained 5% so far this year, Chevron shares have been struggling. Shares are down 7% from the close of 2022 and are clearly underperforming other oil super majors, such as ExxonMobil (+3.8%), Shell (+7.7%), BP (+8.6%) or TotalEnergies (+2.1%). This can to some extent be explained by company-specific factors, such as employee strikes at Chevron's LNG plants in Australia. However, the main reason appears to be Chevron's relatively weaker fundamentals. ExxonMobil is the best comparator as both stocks are domiciled in the US and this comparison shows that ExxonMobil has achieved higher rates of return on assets and common stock than Chevron.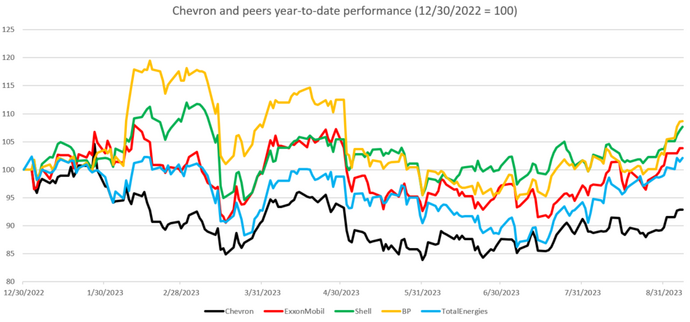 Multiples: Chevron vs Competitors
The underperformance of Chevron's stock price this year, however, has not fully offset the weakening fundamentals. Taking a look at the multiple comparisons between Chevron and its competitors in the table above, we can see that Chevron looks quite 'expensive' compared to other oil super majors. Of course, as we said before, ExxonMobil is the best peer to compare as country-specific factors, such as accounting or tax issues, are absent.
Original article published on Money.it Italy 2023-09-08 17:11:54. Original title: Petrolio in rialzo mentre gli investitori cercano investimenti