Fintech has the potential to benefit greatly from artificial intelligence to improve itself in the future. Let's see which are the most innovative solutions.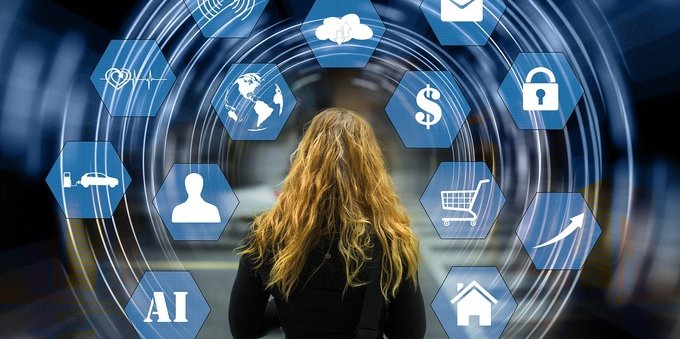 Artificial intelligence is going through a great moment of popularity: everyone wants to integrate it into their systems, as it is capable of bringing great advantages. Fintech is undoubtedly among the sectors that can benefit more than others, i.e. the sector that combines the world of financial services with technological innovation.
By integrating artificial intelligence solutions, it is not only possible to create new innovative products and services, but also to make existing ones safer and more efficient.
Naturally, artificial intelligence and its uses can be declined in multiple uses, some of which can offer the fintech growth opportunities.
Some are particularly interesting, so let's see what they are and try to understand what advantages they can offer for the fintech sector. Among the most innovative artificial intelligence solutions that can be integrated are: virtual assistants, intelligent data processing, recommendation systems and image processing.
Virtual Assistants
The term virtual assistant often takes the form of chatbot which are used to provide the user with first aid in case of need. These are designed using artificial intelligence and complex algorithms, which give them the ability to understand what the customer is asking for and provide an answer.
Let's say you're browsing a fintech company's website and want to apply for a loan. Before accessing the formal request we need some context information (e.g. the right section in which to formulate the request).
In this case, it could be possible to enter our question in the appropriate space, and the chatbot will answer according to the knowledge that has been made available to it.
Once the answer has been given, the chatbot often asks for feedback, to understand if the user has found it satisfactory or not. Thanks to this feedback we are unknowingly "training" the chatbot to understand the type of response provided is the right one to give.
Why is it important to integrate such a solution into a fintech company? Because thanks to the chatbot you can give your customers faster answers, improve their customer experience and potentially increase the number of satisfied customers.
Intelligent Data Processing
Many people don't know it, but companies, especially fintechs, have to manage and analyze a lot of data every day. Doing so is not easy at all, as a large calculation capacity is required.
Imagine being a fintech authorized to provide banking services: every day you will have to process tens of thousands of user transactions in different places around the world. Thanks to artificial intelligence it is possible to analyze the data that these people make available, so as to be able to provide them with a better experience.
Leveraging artificial intelligence to intelligently process data not only offers fintechs the possibility of providing a better experience, but is also important for speeding up processes of analysis and obtaining practical insight on company performance .
Recommendation system
This solution is already widely adopted by e-commerce platforms such as Amazon for example. Its usefulness is to analyze the customer's needs based on a series of parameters, to try to suggest what they might like and consequently upsell or cross-sell.
For example, if you go to any marketplace and look for a t-shirt, the recommendation system employee will try to understand your tastes and try to:
sell you a nicer product (e.g. a nicer and more expensive t-shirt);
sell you a similar product or one that is often purchased together (e.g. a sweatshirt or a pair of jeans).
These recommendation systems could certainly be very useful to many fintech companies and in particular to insurtech ones, which aim to sell insurance products.
Imagine that you are considering the possibility of underwriting a new insurance with an innovative company. By taking advantage of the recommendation systems based on artificial intelligence, the company will be able in a few seconds to provide you with the one that, according to the data it has, is right for you.
Image and document processing
This type of employment is able to provide fintech companies with a valid ally to avoid scams and fraud. Thanks to artificial intelligence, fintech companies gain the ability to process images and understand if they have been counterfeit.
Let's say someone tries to impersonate us, for example by simulating our signature or inserting a photo of us. Thanks to artificial intelligence, companies are able to find out and consequently deny access to the fraudster.
This function can become fundamental especially for companies that offer financial services, as it allows them to avoid running into inconveniences and scams that can be extremely harmful both for the customer and for the company image .
Original article published on Money.it Italy 2023-03-03 12:22:16. Original title: Fintech e intelligenza artificiale: che soluzioni stanno arrivando