With Einstein GPT, Salesforce integrates OpenAI's generative artificial intelligence technology into its CRM. ChatGPT for Slack is also here.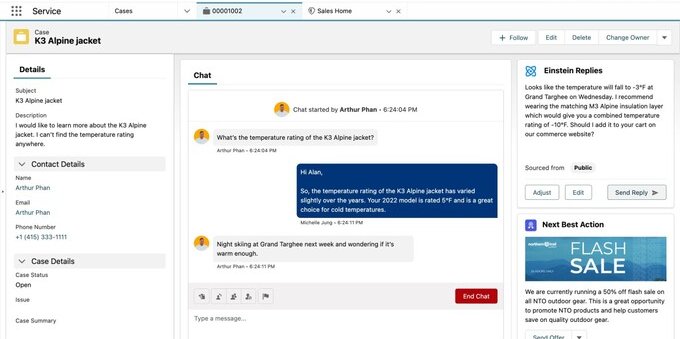 The CRM was missing from the appeal of generative AI.
Now it's here: GPT technology has arrived and promises to redefine the standards of customer experience.
Salesforce made the decisive move and did so with a technological partnership with OpenAI, which led to the world preview announcement of Einstein GPT, a technology that combines CRM data with artificial intelligence to create customized content and actions for customer relationship activities.
For the CEO of Salesforce Marc Benioff, in fact, "The world is experiencing one of the most profound technological changes with the rise of real-time technologies and generative artificial intelligence", while Sam Altman, CEO of OpenAI , rejoices when it comes to "applying the power of OpenAI technology to CRM. This allows us to learn more about real-world usage, which is critical for the responsible development and implementation of AI".
Artificial intelligence tout court, however, was no stranger to CRM. Salesforce created the Einstein technology in 2016 precisely to integrate predictive functions directly into CRM applications in order to personalise the recommendations, anticipate the steps to take and automate activities to give customers the best experience, thus building a great technological engine capable of making 215 billion predictions per day in the Customer 360 platform.
How will Einstein GPT be used?
Einstein GPT is therefore its logical evolution at the time of generative artificial intelligence. To guarantee the quality and reliability of the data (essential elements for AI to work well), it fetches it in real time from Salesforce Data Cloud.
With Einstein GPT, therefore, companies that have a CRM can connect data to the models of artificial intelligence of OpenAI ready or choose their own external model and use suggestions in natural language directly all 'inside your CRM to generate content that continuously adapts to customer change, with information and needs in real time.
What Einstein GPT will do is already seen with respect to generative artificial intelligence scenarios: he will write, give answers, create proposals. In CRM, this means sending an email, responding to a problem, generating content.
For example, Einstein GPT will be able to write personalized emails that sellers can send to customers, can generate specific responses for customer service professionals, and will be able to do it more quickly; will be able to answer questions from customers, generate content targeted for marketers to increase campaign response rates, generate code automatically for developers.
Einstein GPT was therefore created to provide content created by artificial intelligence and make it available to the various company functions: sales, services, marketing.
Technology thus has five declinations.
Einstein GPT for Sales automatically generates sales tasks like composing emails, scheduling meetings and preparing for the next interaction; Einstein GPT for Service generates knowledge base content from previous notes and automatically generates personalized answers in the chat; Einstein GPT for marketing dynamically generates personalized content to engage customers and prospects via email, mobile, web and advertising; Einstein GPT for Slack intelligently summarizes sales opportunities and end-user actions;
Einstein GPT for Developers improves developer productivity by using an AI chat assistant to generate code and ask questions for languages like Apex.
ChatGPT for Slack is also here
We are talking about a generative technology which, moreover, does not struggle to reach even within Slack, the communication and teamwork solution, complementary to the CRM, which is now enabled by GPT to provide instant conversation aids.
Then comes also ChatGPT for Slack, created by OpenAI, technology that provides a conversation based on artificial intelligence, with summaries, search tools to learn about any topic and written assistance to quickly draft messages.
Alongside Einstein's presentation GPT Salesforce also announced Generative AI Fund by Salesforce Ventures, the firm's global investment arm, a new $250 million fund that will invest in high-potential startups , will strengthen the ecosystem and stimulate the development of responsible, reliable and generative artificial intelligence.
Original article published on Money.it Italy 2023-03-07 14:01:00. Original title: L'intelligenza artificiale generativa entra nel CRM, ecco Einstein GPT