Controlling expenses is essential for every company, here are the best apps to do it in a simple way.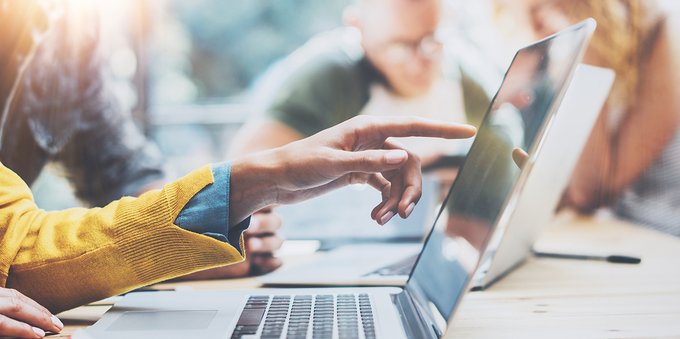 Managing business expenses is crucial for every company. Today, doing it is simple, since there are numerous apps that allow it. Thanks to them, it is possible not only to control spending, but also manage invoices and much more.
Choosing among the various applications available may not be easy, which is why the editorial staff of Money.it has selected 10 to help you. Here's what they are and how they work.
1- Qonto Business
With Qonto Business it is possible to manage all aspects of your company's business finance with a single app, thus making processes faster and more efficient. Using Qonto it is possible to take advantage of electronic invoicing, so as to be able to create and send or receive and pay invoices in a single convenient solution.
It is also possible to better manage spending: the administrator can set a spending limit to connected Mastercard cards (provided with Qonto Business) and monitor money flows, so you never lose the control. Finally, accounting is also simplified. In fact, with Qonto it is possible to digitalise receipts and categorize expenses, to always be better organised. For businesses that need it, Qonto Business also makes Nexi portable POS available, essential for digital payments; and the possibility to pay fiscal expenses in just a few clicks.
2- Revolut Business
Revolut Business allows you to send money all over the world at competitive rates, thus allowing companies to save money. It offers an integrated service, so it is possible to make and receive payments from just one bank account. It also allows you to change your money into around 28 currencies.
With Revolut Business you can get great flexibility for your company and your employees, without ever losing control of your expenses. It is possible to have both physical and virtual corporate credit cards, which can be managed by the administrator from a single account.
It is also possible to quickly generate and send invoices and then keep them in an orderly manner, without the risk of losing them. Finally, to have a high-level customer experience, Revolut Business offers the possibility to take advantage of its API and connect it to your business applications, so as to have a more integrated experience.
3- Wise Business
The main feature of Wise Business is its simplicity: thanks to a very clear interface, the management of business finances becomes much simpler. In a single menu it is possible to send and receive payments; manage the team of employees and order new company cards.
As far as cards are concerned, it is possible to know the incoming and outgoing flows, in order to quickly track all expenses. It is possible to convert currencies quickly and with low interest, those available are around 40. An API is also available for Wise Business.
4- N26 Business
It only takes a few minutes to open your business account with N26 and receive your IBAN. For your expenses, you receive a practical Mastercard Business debit card, with which you can make payments in the entire Eurozone without commissions.
With N26 cashback is also available, in fact, with the Mastercard card, you receive back 0.1% (0.5% with the N26 Metal debit card) of what which is spent. N26 Business is particularly suitable for freelancers, as it is designed to make their life easier.
With the Statistics function, you can keep track of all income and expenses from your account. Furthermore, thanks to the monitoring of expenses, making the tax return becomes very simple, which saves the professional a lot of time.
There are 4 business cards available: Standard (€0.00 per month), Smart (€4.90 per month), You (€9.90 per month), Metal (€16.90 per month). Of course, like the price, the possibilities offered by the individual offers also vary.
5- Tide Business
Tide Business is an excellent app for control of business expenses, but this one is not only aimed at structured companies, but also at freelancers and small companies. There are four different types of accounts that can be opened: Free (0.00 euros per month), Plus (11.38 euros + VAT per month), Pro (21.62 euros per month + VAT) and Cashback (56. 92 euros per month + VAT).
The features of each account, as well as the price, vary. For example, the Cashback version offers: 3 free corporate credit cards; 150 free money transfers per month; withdrawals with commissions of around 1 euro; ability to schedule payments; free invoice creation and sending; support for both telephone and in-app use of the app; and cashback at 0,5% on your expenses.
6- Brex
This app allows you to manage your business expenses quickly and easily. Brex offers two solutions: one for startup and one for larger companies. With this app you can keep invoices and receipts without the risk of losing them, track the expenses of company employees and change the available spending limits, so that the flow of money is always under control.
Employees can add their Brex debit card to their smartphone wallet, making payments simple and secure. Refunds are also processed quickly, if you receive a request, simply accept it and the payment will be processed immediately. Ultimately, Brex users can count on constant support, 24/7.
7- Spendsk
According to the Spendsk website, activating an account is very simple and requires three simple steps. The first is to connect the company account to Spendsk's internal wallet, then you need to define the team, spending policies and spending limits with company cards. The company allows access to both physical and virtual cards, the flow of which is always monitored by the app in real time.
For each expense, employees are reminded to enter the payment receipt; if this is not entered, access is blocked, in order to avoid scams in the event of theft of the card or the account linked to it. Furthermore, if the company has an external accounting system, with Spendsk it is possible to export all data relating to payments, in order to have all the data in one place.
8- Soldo
Soldo is an app that allows you to better control your business expenses, helping administrators not only save time on money flow control management, but also to identify possible waste. Soldo offers tailored solutions, in particular, for company size (SMEs, non-profits and large companies) and for sector (construction, manufacturing, cinema and television, transport and logistics ).
Each team member can be assigned cards, physical or digital, whose cash flow is automatically reported. Users have the option to enter receipts for expenses incurred with their own money, so that the company can then reimburse them (if they are within the regulation). To make the experience simpler and more integrated, Soldo offers the possibility of using an API.
9- Divvy
Divvy is a business expense tracking software and has the feature of being free. According to the company's website, thanks to this convenient management tool, companies that use it save about $10,000 each month, and 12 hours for each user. Divvy offers customized solutions for businesses (small to medium-sized) and across multiple industries: e-commerce, healthcare, tech, construction, travel, education, real estate, banking, energy, supply chain, and media.
Anyone who decides to use the service can conveniently receive cards to link to the software completely free. Divvy has many features, the most notable being the ability to monitor money flows, authorize refunds and help track waste.
10- Zoho Expense
Zoho, the famous CRM used by many companies, also offers its users software for managing company expenses. The service is segmented by size (small, medium and large enterprises) and by sector of companies, those currently available are: consulting, manufacturing, education, non-profit, health and marketing.
The software allows you to manage expenses, authorize reimbursements, track total expenses and monitor analytics, in order to understand if and where it is possible to save. The cost of the service depends on the type of subscription you subscribe to, currently there are four available: Free (0.00 euros), Standard (3.00 euros per user), Premium (5.00 euros per user) and Enterprise (8.00 euros per user).
Original article published on Money.it Italy 2023-01-20 10:00:00. Original title: Le migliori applicazioni per il controllo delle spese aziendali