In the worst tango ever, Belarusian president Lukashenko is trying to dodge Vladimir Putin's attempts to make him join the war in Ukraine.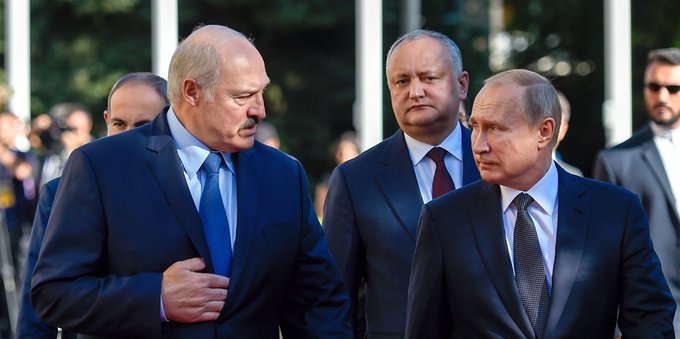 After more than a month of silence, Belarusian president Alexander Lukashenko spoke again concerning a possible joint attack of Ukraine with Russia. Lukashenko also confirmed that he will be meeting with his Russian counterpart Vladimir Putin tomorrow on Friday.
Last we saw of Lukashenko was earlier in January, when the Belarusian army on the Ukrainian border was put on combat readiness. Prior to this, the Belarusian and Russian presidents met in Minsk.
According to Ukrainian intelligence, Minsk and Moscow are planning a joint-offensive aiming at conquering Kyiv from the north. Almost one year ago, at the very start of the war, Belarus allowed access to Russian troops for a similar offensive, which failed completely.
Now, according to Ukrainian intelligence, Putin believes it's the right time to strike at Kyiv again. Indeed, most of the defenses are concentrated in Bakhmut, where the brunt of the fight is taking place right now.
However, the Ukrainians have taken their duly precautions, fortifying the border with Belarus with men, equipment and artificial barriers.
A renewed Russian offensive from the north would likely be stopped dead, with or without the participation of the Belarusian army. Russia already failed last year, and this time they would face a better prepared and equipped Ukrainian army.
And Lukashenko knows this.
What did Lukashenko say
Aleksandr Lukashenko can ill afford a failed offensive into Ukraine. Vladimir Putin can perhaps take any amount of hits to his reputation, but the same cannot be said for Lukashenko.
In 2020, Lukashenko was almost deposed by the biggest protests in the country's history. There is another Belarusian government in Poland run by Sviatlana Tsikhanouskaya, which proved to have won the previous elections and that Lukashenko rigged the vote.
The only reason Lukashenko is still in power is the support of the army, as well as the many economic bailouts by Russia. With the army occupied in a Ukrainian offensive, Lukashenko might definitely lose his weak grip on power. On the other hand, if he refuses to help Putin his economy might not recover, therefore losing the grip on power anyway.
Stuck in this situation, Lukashenko finally broke silence and declared his intentions for a Ukrainian offensive. He said that he is "ready to fight together with the Russians from the territory of Belarus only in one case so far: if at least one soldier from there comes to the territory of Belarus to kill my people. If they commit aggression against Belarus, the answer will be the most severe."
So, attack Ukraine only if Ukraine attacks first. While this could be a good strategy to justify entering the war, it still does not solve all of Lukashenko's problems.
It must also be seen what he means by "committing aggression". In late December, a Ukrainian made missile accidentally fell on Belarusian territory when trying to intercept a Russian attack.
Would this prompt a Belarusian attack against Ukraine? It's impossible to know.
Whatever decision he makes, Lukashenko's fate might already be decided.