With Xi Jinping's official meeting with Vladimir Putin, the Russia-China alliance is finally forged. However, only China is the real winner of the situation.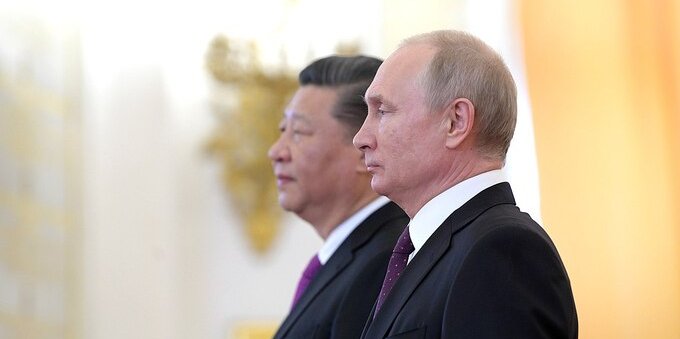 As China's president Xi Jinping continues his official visit to Moscow, the first public declarations with his Russian counterpart Vladimir Putin are drafted. On Tuesday, the two leaders declared their continuous friendship and endorsed trade between Russia and China.
The announcement of Xi's visit to Moscow came last Friday, a month into the second year of the Russian invasion of Ukraine. By now, China and Russia are official partners, a necessary friendship as the Western nations join in support of Ukraine.
Indeed, since the illegal invasion started, Russia's trade dominos with the West fell one after the other. Europe risked a major energy crisis rather than support Russia in its war, and therefore halted commercial partnerships with Moscow.
Specifically, Europe stopped importing large masses of gas and oil from Russia, which are the main drivers of the Russian economy. Stripped of its main revenue stream, Vladimir Putin was forced to look East, and found the perfect commercial partner.
China, the second largest economy in the world, is notoriously deprived of significant natural resources. Despite their efforts to move to nuclear and renewable powers, the vast majority of their energy comes from oil and gas.
Furthermore, China too is at odds with the West, specifically in their control over the island of Taiwan.
Fewer alliances in history were less obvious. And Xi's trip to Moscow finalizes such an obvious alliance.
Trade partnerships and more
"China has become a leader in terms of oil imports from Russia, while Russia is ready to increase uninterrupted oil supplies for the needs of the Chinese economy". This was Vladimir Putin's declaration on Tuesday, as the first round of meetings with Xi ended.
Russia and China announced the construction of a second oil pipeline connecting the two countries. The "Power of Siberia 2" (the first one already exists) will provide Beijing with 50 barrels/day of crude oil.
Putin pledged to reach a delivery of 98 barrels/day of oil to China by 2030.
This move will increase interdependence between the two nations, forging an alliance that will face the US-led West.
On the other hand, Russian oil exports to China remain insignificant compared to the volumes traded with Europe. At its peak, Russia sold Europe 117 barrels/day, a market that is now completely gone.
As Putin himself acknowledged, China is now Russia's main trade partner. Specifically, though, China is Russia's only relevant trade partner. If China decided they don't need Russian oil anymore (after all, they import it from other places too), Russia's options would be finished.
Xi knows this, and it is the reason why China can afford to buy Russian oil at a fraction of the European purchasing price.
Therefore, it wouldn't be completely wrong to look at Russia as China's vassal. This might have been Putin's biggest blunder when he decided to invade Ukraine.