Chinese president Xi Jinping will fly to Moscow to meet the Russian leader Vladimir Putin. China and Russia could form an official alliance against the West.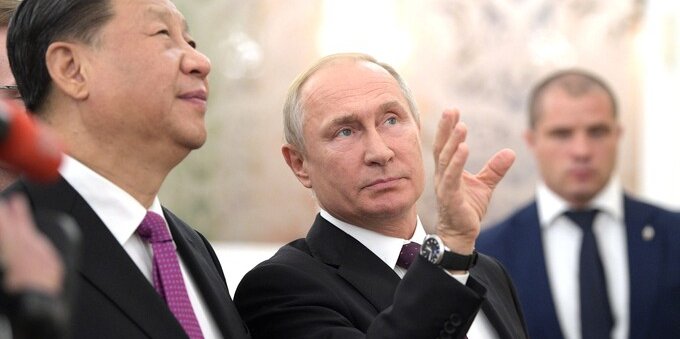 The alliance between China and Russia seems to be getting stronger and stronger as the war in Ukraine progresses. In a rare trip abroad, Chinese president Xi Jinping will visit his Russian counterpart Vladimir Putin in Moscow.
For the better part of a year, China has watched the war in Ukraine developing without taking a direct stance. They condemned the use of force and war, but also blamed NATO expansionism into Eastern Europe.
Lately, however, more and more diplomatic moves went in favor of Russia and against the West, clearly establishing Beijing's stance.
China itself is at odds with the West, particularly against the United States. Washington is a close ally of Taiwan, the independent island off the coast of China that Beijing claims to be part of its sovereign territory.
China has threatened an invasion of Taiwan for years, and many American generals fear D-Day is close. In a case of a (unlikely) direct attack, the United States promised full support of Taiwan, possibly with soldiers on the ground.
Furthemore, China is now Russia's main commercial partner. Russia has the fossil fuels China needs to run its massive economy, and with the closure of the European market, Beijing can set prices low.
Therefore, it was only natural that Russia and China would strive for closer relations, and the time seems to have finally come.
What will Xi and Putin discuss
The announcement of Xi's visit to Moscow came on Friday. Wang Wenbin, spokesman of the Chinese foreign ministry, did not specify the exact topics the two leaders will fall upon.
It is likely, however, that the discussion will involve the current war in Ukraine. A few weeks ago, American intelligence claimed that China was in talks to send military equipment to Russia.
Were that to be true, it would make China Russia's biggest ally in the war, and the biggest economy to support Moscow militarily.
Indeed, Wang Wenbin mentioned that Xi and Putin will discuss " practical cooperation " between the two nations. "China and Russia always cooperate on the principles of mutual respect and mutual benefit," Wenbin said, "and we keep enhancing and expanding pragmatic cooperation".
This meeting comes amid increasing tensions between China, Russia and the West. The Chinese balloon incident ruined relationships with the US, while the American drone brought down by a Russian jet saw the first direct clash between the two powers.
The world is being divided into blocks once again. The only fear is that the following war will not be as Cold as the previous one…