The Wagner Group is suffering an immense casualty rate in the Ukraine war. To finish conquering Bakhmut, they'll need fresh blood.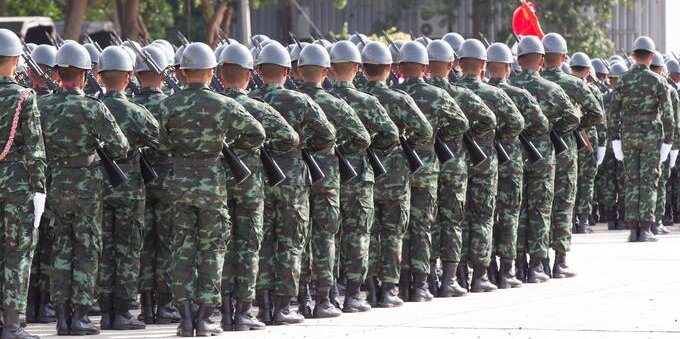 Despite slow Russian gains in Bakhmut, the main battlefront in Ukraine right now, the Russian army seems to have difficulty in wrapping it up. On Tuesday, Kremlin warlord Yevgheny Prigozhin was seen in Russian high schools trying to find new recruits, British Intelligence reports.
Prigozhin is the head of the Wagner Group, a mercenary force that fought alongside Russian allies for over a decade. They fought in Libya, Syria and now they are on the frontline of the Ukrainian invasion.
Despite rumors of a political ostracization, it seems that Prigozhin is still a close friend of Russian president Vladimir Putin. According to some estimates, the Kremlin invests over $100 million every month for the Wagner Group.
Further, the Wagner Group has finalized arms purchases with North Korea and Iran, Russia's main allies in the war.
However, the Wagner Group has suffered thousands of casualties in the first, and so far only, year of the war. Until Putin's partial mobilization in September, the Wagner Groups was the main Russian force on the frontline, and manpower was starting to become an issue.
Prigozhin started to opt for unorthodox methods. He was seen roaming around Russian prisons, promising a pardon for anyone who survived more than six months in Ukraine. It's estimated that Prigozhin recruited over 40.000 Russian convicts in his mercenary force.
However, it seems to not be enough.
The Bakhmut meat grinder
Last December, after Russia's humiliating defeat in the retreat from Kherson, the Russian high command planned a new offensive. It would be concentrated around the town of Bakhmut, an important railway hub in the Donbass still in Ukrainian hands.
However, the Russians would soon learn that taking Bakhmut was no easy feat. The Ukrainian were deeply entrenched into the winter mud, in a World War One-like scenario.
The Wagner Groups is believed to have suffered a casualty rate of almost 50%, though these numbers will not be confirmed for years.
The Wagner Group and the Russian army did manage to break the Ukrainian defenses in some crucial points. They captured the town of Soledar and surrounded the southern hub of Vuhledar.
Indeed, it is likely that Russia will eventually prevail in Bakhmut, as the Ukrainian forces in the city are almost completely surrounded.
But even with Bakhmut in Russian hands, the war would be far from over. And Prigozhin still needs fresh blood to send in the illegal invasion.
Today's British bulletin claimed that "Putin's chef", as Prigozhin is known, is starting to recruit female convicts and high school students.
If that were the case, the Russian population is really starting to understand what war is like. Something their government inflicted upon the Ukrainians over a year ago.