Rockets were launched on Israeli targets on Thursday following violence against Palestinians. Tensions between Israel and Palestine keep rising.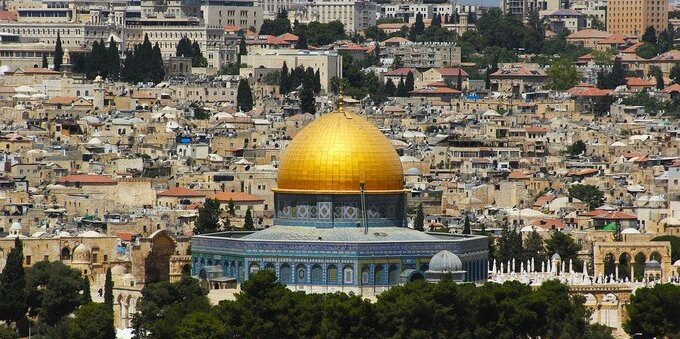 As repression against Palestinian residents mount in Israel, Palestinian terrorist groups retaliate with severe measures. On Thursday, over 30 rockets were launched into Israeli territory from Southern Lebanon, a country on the northern border of Israel.
Of the 34 rockets launched, 25 were intercepted. The ones that hit the ground left three casualties and several shell-shocked victims. The Israeli army has not retaliated against this attack.
According to Reuters, those responsible for the attack are the Palestinian factions of the Lebanon-based Hezbollah group. Hezbollah is a terrorist group that is supported by much of the Arab world against Israel. Hezbollah is currently based in Southern Lebanon and has often fought against Israel in the decades past.
At the same time, rockets have been launched from the Gaza strip, the Palestinian exclave bordering southern Israel. Gaza is also controlled by Arab affiliated terrorists and has been a spine in Israel's thorn since the nation's birth in 1948.
These rocket launches against Israel are a response against Israeli violence perpetrated against Palestine. On Wednesday, the Israeli police launched a raid against the Al-Aqsa Mosque, a sacred compound for Islamic followers.
This raid is the last of a series of attacks against Palestinian residents in 2023. In response, Hezbollah's retaliation actions have been stronger and stronger.
The Netanyahu government
Tensions between Israel and Palestine have ignited again since the new Jewish government swore in office later last year. The new Israeli government marked the return of Benjamin Netanyahu as the country's prime minister, with the most right-winged coalition in Israel's history.
One of the government's new members, Ben Gvir, is renowned for his extremist views on the Palestinian dossier. The week the new government was formalized, Ben Gvir visited the Jerusalem Temple Mound, another sacred location for the Islamic faith.
Netanyahu made no secret of his agenda, endorsing new Israeli settlements in the West Bank. The West Bank is the largest Palestinian territory formally under the occupation of Israel. For decades, Israel has relocated the Palestinian residents in refugee camps, replacing them with Jewish nationals.
Tensions rose at the weekly UN meeting on the Israel-Palestine conflict, and in early 2023 Israel increased raids on Palestinian refugee camps. 2022 already was the deadliest year for Palestinians in 20 years, though 2023 might top it going forward.
For the moment, tensions will likely keep rising, as the United States confirms its commitment to Israeli protection.